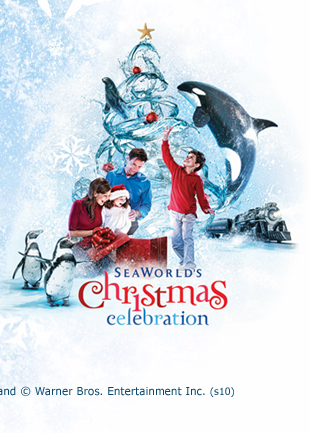 Hey Tampa Bay, Melissa back again. It's the most wonderful time of the year-and by that I do mean the holidays. Whether you are ready for them are not, the holidays are approaching at a faster rate than ever. What better way to celebrate than by hopping aboard the Polar Express Experience at SeaWorld Orlando, starting November 12th.

Guests are invited to climb on the train that takes you through a magical journey; fully immersing it's passengers in a multi-sensory experience. There will be special lighting, sounds and motion effects throughout the ride, and when you arrive at the North Pole you will experience extraordinary animal encounters coupled with holiday cheer.

The Polar Express Experience isn't the only way to feel the magic this holiday season. SeaWorld Orlando will be holding a variety of events this season that are sure to get even the grouchiest Grinch or Scrooge into the spirit!

Starting on November 26th (the day after Thanksgiving), guests can experience SeaWorld's Sea of Trees and The Christmas Market. Want details? Well then continue reading…

The Sea of Trees will feature 74 massive trees, all beautifully lit and decorated centered around SeaWorld's Center Lake. The Christmas Tree Market allows you to shop for one-of-a-kind gifts while enjoying scrumptious holiday delights.

As if these holiday experiences weren't enough to get you on board, returning holiday favorites like Winter Wonderland on Ice, Clyde and Seamore's Countdown to Christmas and A Sesame Street Christmas will also be at SeaWorld Orlando this year.

I don't know about you guys, but just reading this stuff makes me want to get a tree and start decorating tonight! The holidays are such a fun time of the year and SeaWorld Orlando can help make yours even more memorable.

For more information, get online with SeaWorld and visit their website as well as their Facebook and YouTube pages and continue to check back here for more about different events this holiday season and other Tampa Bay Area events.