Hi Tampa Bay, Alex here with more news from the Patel Conservatory...
The Patel Conservatory Youth Orchestra (PCYO) is holding auditio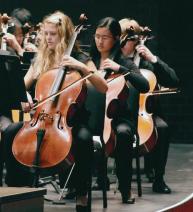 ns for placement on January 4 & 5, 2012 at the David A. Straz, Jr. Center for the Performing Arts.
PCYO provides accomplished young musicians experience in an advanced orchestral ensemble.
In addition to receiving the finest musical training, PCYO students participate in unique experiences. PCYO students have the opportunity to play for the enjoyment of hundreds of music enthusiasts prior to Florida Orchestra concerts at the Straz Center for the Performing Arts.
PCYO students  will also have the opportunity to travel to Jacksonville, Fla. to work with members of the Jacksonville Symphony and participate in the Jacksonville Symphony Youth Orchestra Festival in June. This festival will include orchestras from Jacksonville and Tallahassee; PCYO was invited by the Jacksonville Symphony. 

The youth orchestra has performed twice at Carnegie Hall in New York City, with the New World Symphony in Miami, and elsewhere.
PCYO, part of the non-profit Straz Center, includes the Intermezzo Orchestra and the Patel Conservatory Chamber Orchestra. Intermezzo Orchestra is an intermediate ensemble of string players who have good basic playing skills and are learning the skills necessary to be in the advanced orchestra.
Auditions for PCYO will be held Tuesday, Jan. 4 and Wednesday, Jan. 5 from 5 to 8 p.m. each day.
To sign up for an audition, call 813.222.1002. (There is a $15 fee to audition.)
Good luck to everyone that is participating in these auditions!
Check back with us often for more information on Arts in Tampa Bay!