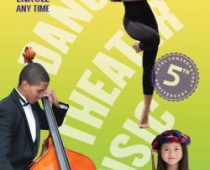 Lisa here, with an exciting update about Arts and Culture in Tampa Bay!
The Patel Conservatory has two exciting things happening with their students in December. The first is the Jazz Jam.
Jazz Jam is a performance by the Patel Conservatory's Jazz Ensemble students and guests. The performance will be Friday December, 10th at 7pm. Some of the instructors will lead guest artists and students from the Conservatory's classes in a fun concert. Some of the music types include big band swing and contemporary jazz-funk.
Performing with the guests will be students from the Patel Conservatory's Intro to Jazz Ensemble, Jazz Ensemble and Adult Jazz Voice Ensemble. The voice ensemble will perform songs like "Take Five," "In a Mellow Tone," "The Pink Panther," and "When I Fall in Love."
Tickets
for this event cost $8.
After the awesome Jazz performance on December 10th, the Conservatory will host a Student Showcase. The Showcase is going to take place on Saturday, December 18th. This is a showcase of youth, young, and adult students, showing off their talents all day.
Currently there are three performances scheduled. At noon the youth showcase will feature young students in theater, jazz, hip-hop, and introductory to music classes. At 3:30pm the young students will show off what they learned in hip-hop, voice, jazz, and musical theater. The last performance of the day at 7:30pm will be the adult students, performing music, acting, musical theater, tap, flamenco, ballet and hip-hop.
It will be a full day of fun Tampa Bay Entertainment! And the
cost
is only $8. It is a great way to see what you could learn as a student, or get a good idea of the variety offered by the Patel Conservatory.
Stay tuned for more Tampa Bay Events updates!