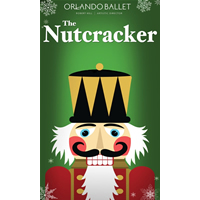 Hey everyone! Travis back (I know, it's been a while) with some great Tampa Bay area events for the holidays!  In fact, I am about to tell you about one of the most famour holiday performances...The Nutcracker! 
It's playing in the Carol Morsani Hall at the David A. Straz Center for the Performing Arts on Dec. 22-23, and there are still tickets available! 
Here's the info about the show:  Make The Nutcracker a holiday tradition for your family. Orlando Ballet presents a condensed version of The Nutcracker featuring all the highlights, complete with stunning sets and costumes, special effects, Tchaikovsky instantly recognizable score and exquisite dancing.
The performance also features 80 students from the Patel Conservatory Youth Ballet in partnership with the Orlando Ballet School. The Nutcracker is performed to pre-recorded music.  And Regularly priced tickets start at $22.50...so it's a pretty good deal! 
Just log on to www.tbpac.org to get more details and buy your tickets...and get ready to enjoy one of the best holiday performances of the season! 
Until next time, keep checking back for more great things to do in Tampa Bay and other Tampa Bay entertainment options.