Hey Tampa, Lisa here with an update on your
Tampa Bay Lightning
.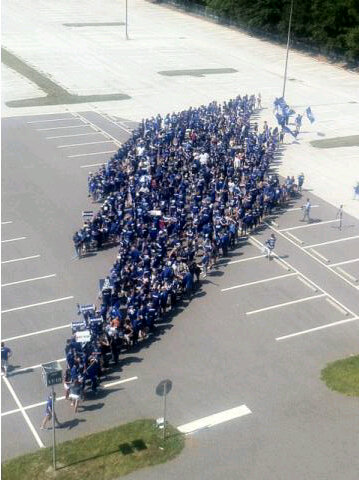 So in case you haven't heard we are tied 2-2 heading into game 5 TONIGHT. I'm not sure if you had a chance to watch the game Saturday, but I really hope you did. After a not great first period we came back to win it 5-3 with a nice empty net goal at the end.
The series is back in Boston tonight and in order to show our support fans gathered at the airport yesterday to cheer on our team. Not only did they cheer and stand out in the hot mid-day sun, but they also did it in the form of a lightning bolt. Pretty cool if you ask me!
Now for the 411 on the rest of this series. Like I said game 5 is TONIGHT. And there is a watch party at the St. Pete Times Forum. Free parking is available in the Forum West Lot and the VIP East Lot on a first come, first serve basis. There will also be food and drink specials, entertainment, music, games and much more. You can bring chairs, blankets and coolers with food and non-alcoholic beverages.
The game starts at 8, but the party starts at 6:30. If you haven't watched a game outside at the Forum, you really should it's the biggest screen I've ever watched a game on and it was awesome!
After tonight, the series comes back to Tampa for game 6 on Wednesday and that game also starts at 8. If need be, game 7 will be in Boston on Friday night at 8pm.
So get out there and cheer on the Bolts!
That's it for now, but stay tuned for more Things To Do In Tampa Bay, and other Tampa Bay Area Events!