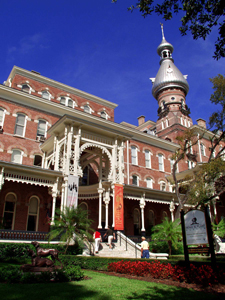 Hi All, Sally here from the Henry B Plant Museum with a cool announcement! The Henry B. Plant Museum presents
Shop for the Holidays on Monday
, November 1st from 10 am to 7 pm. 
The Museum Store is stocked with new merchandise. Museum members will receive a 20% discount on all Museum Store purchases and all other shoppers will receive a 10% discount. Homemade delicacies are offered all day. Wine and cheese served at 5 pm.  
The following local artisans will be featured: Holli Morris, Fine Fashion Jewelry (classic, elegant and whimsical designs from Pierre & Harry Pearls), Rick Reeves, Illustration & Fine Arts (oil paintings and limited edition prints of Florida memorabilia), Peter Streit, Rising Sun Potteries (wheel-thrown and hand finished ceramics, functional pieces of art), and Kay Culbreath Heller, Rare Prints Gallery (a rare prints and map dealer from Franklin, Tennessee).
Joy and Jack Harris, authors of
Easy Breezy Florida Cooking
, will sign their book from 12:30 to 2:30 pm.  From 4 to 7 pm Barbara Smith, with her estate jewelry, and Lea Davis, with her original jewelry creations, will be on hand to talk to customers.
Lunch on the veranda will be served from 11:30am – 1:30pm.  Quiche, fruit salad, dessert and beverage are $12 but reservations are a must on or before October 27th. Call (813) 258-7302 for the reservations or email sshifke@ut.edu. 
Exclusive: 5 newly designed ornaments with images of the former Tampa Bay Hotel. Plus the Museum Store shelves are filled with holiday treasures and accessories to decorate your home for the holiday season. You are invited to marvel over our dazzling ornaments, capricious serving pieces, and unique table furnishings.
The Museum Store also features books, jewelry, silver, fragrances, porcelain, Laura York's famous Christmas candy, men's accessories, and children and baby toys.  Many items are unique to the Victorian era.
That's all for now, but stay tuned in for more history related things to do in Tampa Bay and Tampa Bay shopping updates!