Hey Tampa Bay, Alex here to tell you that The Grand Reef is now open at Discovery Cove.

The Grand Reef is an all-new area of Discovery Cove featuring multiple levels of exploration, from shallow waters to deeper swimming adventures and white sandy beaches, to snorkeling among canyons inspired by reefs from around the world. 
You can step into tranquil, shallow waters to discover a below-the-surface world teeming with sea life, or you can snorkel in deeper waters as thousands of exotic fish and graceful rays swim around them.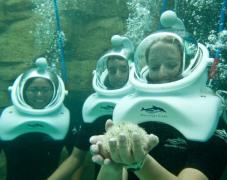 Families can seek discoveries along the water's edge or cross a bridge to see sharks swimming below.

Further out in the reef, stunning habitats create the feeling of swimming right alongside venomous lionfish and sharp-toothed reef sharks, each safely behind glass. 
Those looking for an even more exhilarating adventure can take part in The Grand Reef's innovative experience, SeaVenture, an underwater walking tour.  Wearing dive helmets, you can find up-close excitement around every corner, each step yielding a new discovery.  You will come across lionfish and sharks (safely behind massive panoramic windows), one-on-one touches with unique animals and schools of fish and gentle rays swimming by. SeaVenture is a once-in-a-lifetime, undersea experience available for a nominal fee.
The Grand Reef is the perfect balance between adventure and relaxation, a fully immersive tropical escape.
Spend a summer day with your family at Discovery Cove with inclusive meals, snacks, beverages, towels, wet suits and swim gear, plus a pass for unlimited admission- to either SeaWorld or Aquatica in Orlando or Busch Gardens. 
For reservations or more information, visit DiscoveryCove.com or call 1-877-434-7268.
I hope you are having a great day. Check back with us throughout the week for more information on things to do in Tampa Bay!