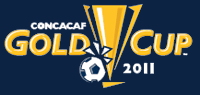 Hello again fellow Bloggers. This is Tony from the
Tampa Bay Sports Commission
checking in!
Tampa Bay has been selected as one of 11 U.S. cities who will host the 2011 CONCACAF Gold CupTM, celebrating its 20th anniversary as the region's most prestigious football competition.
As part of CONCACAF's efforts to bring the Gold Cup to as many fans as possible across the United States, and after the success of the 2009 event, the 2011 Gold Cup will again travel to new cities, including Detroit, Tampa, Kansas City and Charlotte, while also returning to traditional markets.
The champion of the 2011 edition will represent CONCACAF at the 2013 FIFA Confederations Cup to be held in Brazil as a prelude to the 2014 FIFA World Cup. For more information about Gold Cup venues and teams, please visit
www.CONCACAF.com
.
That's all for now, but be sure to stay tuned in for more updates on soccer related things to do in Tampa Bay!