Hello Tampa Bay, Alex here to congratulate The Florida Aquarium on being recognized as Dolphin SMART.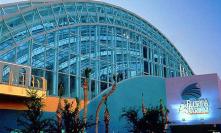 NOAA Fisheries Service and its partners welcome The Wild Dolphin Ecotour at the Florida Aquarium into  Dolphin SMART- a unique wild dolphin conservation program,  after successfully demonstrating responsible viewing and advertising of dolphins in the wild and educating patrons on the importance of dolphin conservation. 
The SMART acronym is a reminder of the basic principles of dolphin viewing etiquette:
Stay at least 50 yards from dolphins
Move away slowly if the dolphins show signs of disturbance
Always put your vessel engine in neutral when dolphins are near
Refrain from feeding, touching or swimming with wild dolphins
Teach others to be Dolphin SMART

The Florida Aquarium is also the first business to simultaneously become both Dolphin SMART and a Proud Supporter. 

As a Proud Supporter, the Florida Aquarium supports Dolphin SMART by raising public awareness of the program and educating the public on the importance of responsibly viewing wild dolphins.
   
More information on SMART and a list of Dolphin SMART businesses is available online at http://www.dolphinsmart.org.

If you are looking for something fun to do this summer, check out The Wild Dolphin Ecotour at The Florida Aquarium. For tour information and prices, click here.  

 
Have a wonderful day, and check back with us often for more exciting news on Tampa Bay Attractions.