The Florida Aquarium has teamed up with the Tampa Bay Green Consortium to enter a rescued Sea Turtle in the "Tour de Turtles," research project on turtle migration, helping to gather data needed to protect these sea creatures.
The Kemp's Ridley Sea Turtle, affectionately known as "Tampa Red," came to the The Florida Aquarium back in March, suffering from buoyancy issues as a result of the recent Red Tide Boom (hence the name). The Aquarium carefully rehabilitated her, and she is now ready to be released back into the wild, where she will join ten of her fellow sea turtles on their annual migration from nesting sites to feeding grounds.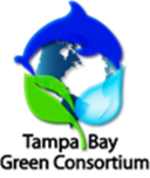 Tampa Red will be released in Ft. Myers on Monday, July 29, in the same place she was found. She will become part of a Sea Turtle migration study that will help conservationists and government agencies make informed decisions about turtle conservation policies.
The coolest part of the whole thing? You can keep tabs on Tampa Red during her journey! Audiences worldwide will be able to view her and her flippery friends' progress by visiting www.tourdeturtles.org.
Be sure to stay tuned to discover more about Tampa Bay's wildlife conservation efforts and research! Here's to The Florida Aquarium for giving Tampa Red a new lease on life. Safe swimming!