Hey sports fans!  Ok, so the Super Bowl is gone, the Gasparilla Pirate Fest has set sail, but there are still tons of things to do in Tampa Bay! 

We just got this in about the Plant City Strawberry Festival.  Tickets are on sale now, so take a look –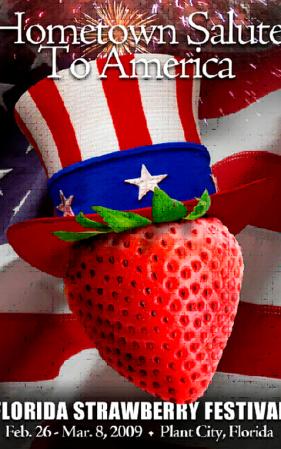 From now through the 11-day Florida Strawberry Festival, participating Florida Sweetbay Supermarkets will be selling admission tickets for the Festival at advance discount prices.  Select Sweetbay Supermarkets in Alachua, Charlotte, Citrus, Desoto, Hardee, Hernando, Highlands, Hillsborough, Lake, Manatee, Marion, Pasco, Pinellas, Polk, Sarasota and Sumter counties will sell 2009 Florida Strawberry Festival admission tickets for the advance purchase price of $8 for adults and $4 for children through March 8.

The advance discount price allows consumers to save $2 off regular adult (13 and up) gate admission of $10 and $1 off youth (ages 6-12) gate admission.  Children five and under are admitted free with a paid adult.

Advance discount tickets can also be purchased through the festival ticket office, Monday through Friday from 8:30 a.m. until 4:00 p.m., at 2209 W. Oak Ave until Feb. 25. However, once the Festival opens on February 26, the participating Sweetbay Supermarkets will be the only locations where patrons can still purchase tickets at the discount prices.

The 74th Annual Florida Strawberry Festival opens Thursday, Feb. 26 and runs through March 8, 2009 on the Festival grounds in Plant City. Easily accessible from Interstate-4 via Exits 17, 19 and 21, it's 11 full days of rides, games and attractions; exhibits of agriculture, horticulture, commerce, fine arts, livestock, homemade goods and crafts; as well as a celebration of Florida-grown strawberries.  Shortcake is a favorite fare at the Festival, but there will also be strawberry cookies, cobblers, milkshakes, pies and more.  For more information call 813-752-9194 or log on to www.flstrawberryfestival.com.

Ok, so it's not the best arts and culture in Tampa Bay, but it's a blast and some of the best Tampa Bay entertainment that you can find!  Those are the basics for the Florida Strawberry Festival, but keep checking back and we'll bring you the rest of the exciting concerts, entertainment and information about the annual event. 

Until next time, prepare to get your Strawberry Shortcake and ride some rides!  And, if you are planning on heading out to this year's event, stop in and let us know!