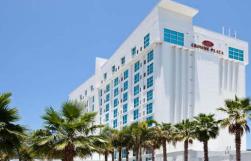 Hello there folks! Jerm here with an update for you on of our Tampa Bay & Company hotel partners over in the westshore district!
Just when I thought they couldn't do anything else to be more awesome, the fine staff over at the
Crowne Plaza Tampa Westshore hotel
continuously manages to surprise me!
It seems like they are always winning some sort of award or recognition for customer service like below:
2009 InterContinental Hotels Group Renovation Award
2009 InterContinental Hotels Group Meeting Service Excellence Award
2009 Florida West Coast Chapter National Association of Catering Executives Venue of the Year Award
2010 InterContinental Hotels Group Meeting Service Excellence Award
That's a good haul of awards, and and at this rate they are going to have to seriously look into buying a trophy case of some sort to house all of these different awards!
In addition to the aforementioned accolades, they were just recently selected #1 in Florida and #6 in the nation for guest satisfaction! And no its not a committee or panel that says they are ranked so high folks, its right from the source in the form of surveys submitted by their own guests! Doesn't get much better than that folks!
Doesn't matter what your needs are, from
corporate meetings
to
weddings and banquets
, or whatever your accommodations needs are, the fine staff over there will make sure you are well taken care of!
That's all for now folks, but stay tuned in for more updates on Tampa Bay meetings and more amazing award related updates on Tampa Bay & Company partners!