Hey Tampa Bay, Alex here to tell you to mark your calendars for the world's first Geek and Gaming Convention, TAMPA BAY ODDCON 2010, coming to the area in early October. 
THE TAMPA BAY ODDCON is coming to the
Doubletree Westshore hotel
on October 8, 2010. This event will bring out the geek in everyone through its unique types of entertainment.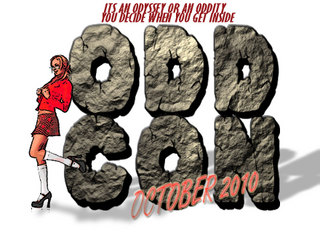 This Geek and Gaming Convention will provide guests with a weekend full of fun through the following events:GUEST OF HONOR ELOY LASANTA FROM THIRD EYE GAMES, appearances by local actors KEN ANTHONY from shock horror film 'AS THE NIGHT FALLS' ... and CHRIS FIELDS from the comedy online webisodes, 'THE HUNTED: TAMPA'. There will also be exhibitions and discussion panels about local art and artisans, Vendors, Parties, Costume Contests and Live music by MAGITEK, MIDNIGHT FISTFIGHT, EMERGENCY PIZZA PARTY, MARC WITH A C, AND SCI-FRIED!
Attendees can enjoy live action and tabletop role playing gaming, collectible card games, miniature and board games as well as a bring-your-own-beast (BYOB) LAN Gaming room. Also, for the first time anywhere, PAIN'S LABYRINTH makes its debut as an invisible maze of shocking proportions.
Weekend Memberships for the TAMPA BAY ODDCON cost $35, with day trip tickets available at $25. Lifetime Memberships are available for a limited time only at $75, guaranteeing future convention memberships for the life of the con.
SPONSORSHIPS AND VENDOR OPPORTUNITIES ARE AVAILABLE
Check back often for more information on local Tampa Bay area events and Tampa Bay meetings happening in the Tampa Bay Area.