Hey Tampa Bay, as you all know there are just five days left in the 2010 FIFA World Cup™. Everyone involved with the USA Bid Committee is excited for what is sure to be an exciting final when Spain take on the Netherlands, but sad that all of the action will soon be coming to an end.
Although World Cup 2010 ends on July 11 that doesn't ne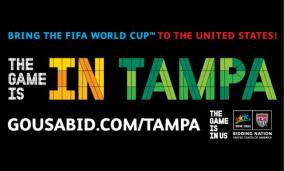 cessarily mean it is time for the USA Bid Committee to relax. After the World Cup ends, the work to try and bring this amazing event to our country will increase.
From now until December 2, 2010 when FIFA announces the 2018 and 2022 World Cup hosts, the USA Bid Committee, all candidate host cities and partners have a common goal to achieve —  continuing to show the world how much this country loves soccer.
The USA Bid Committee is proud to announce that they have reached a total of 800,000 signatures — moving closer to the goal of exceeding a million signatures.
As of right now Houston is back in the lead, and former first-place Miami isn't far behind. Tampa Bay is still in 5th place and still kicking, so make sure you all head over to
http://www.gousabid.com/Tamp
a or text Tampa Bay to 22442 to vote for your city- TAMPA BAY!
Check back with me, Alex, often for more information on World Cup Soccer news and Tampa Bay area events.