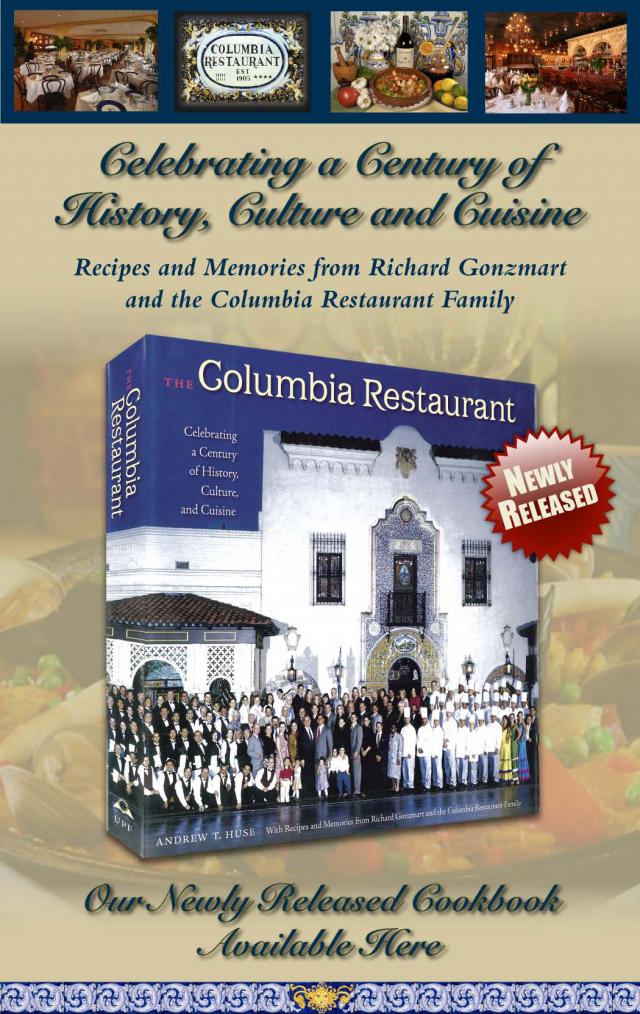 Travis back with a Tampa Tourism update that I know you'll be eating up.  Here's the info right from the Restaurant's mouth!
The legendary Columbia Restaurant has returned with a new book to tantalize the taste buds and imagination. 
In 1994, The Columbia Restaurant Spanish Cookbook won acclaim with its blend of history and cuisine.  The saga continues in the new release:  The Columbia Restaurant:  Celebrating a Century of History, Culture, and Cuisine.  
Over 100 years of The Columbia's history comes to life in 300+ colorful pages, illustrated with many new color and black and white photos along with stories from the Hernandez Gonzmart family members, employees, business partners and long time customers.
 
This book will delight home cooks, offering seventy-seven new, authentic recipes and theme menus for the holidays, Sunday brunch, wine tastings, and cocktail parties.  Learn simple and elaborate dishes made famous by the Columbia.
History buffs will enjoy the newly-researched origins of The Columbia and stories of its early struggles through Prohibition and Depression.
Watch The Columbia's glamorous rise during the 1950s, when it throbbed with romantic music supplied by Third Generation Family Member Cesar Gonzmart and his magic violin.   Federal bulldozers lurked in the 1960s, as urban renewal demolished much of the old Latin Quarter.  In the 80s, new locations meant new opportunities and risks.  Somehow, the Gonzmart family made the struggle look easy. 
A death in the family prompted a business crisis in the 1990s that threatened the Columbia as it neared its centennial.  Quick thinking and hard work salvaged the sinking ship and charted her into the 21st Century.  The voices of employees, family members, and friends help tell the Columbia's colorful and fascinating story.
Published in October 2009, The Columbia Restaurant:  Celebrating a Century of History, Culture, and Cuisine is available for 29.95 at any Columbia Restaurant, or at their website: www.columbiarestaurant.com.
So, make sure you get a little bit of the Columbia's history for yourself.  And as always, keep checking back for more great Tampa tourism updates, as well as great things to do in Tampa Bay.