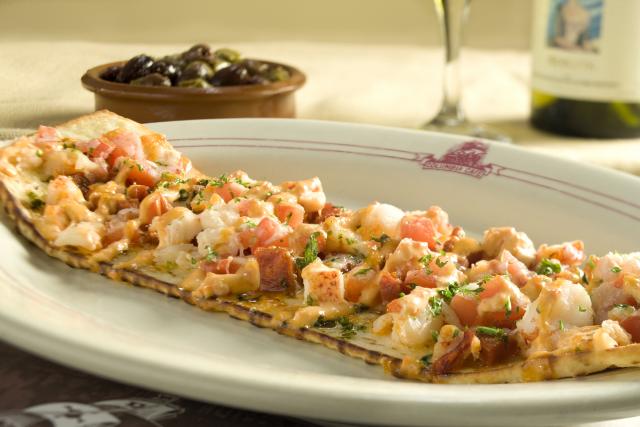 Hello!!! I hope everyone has been enjoying this fantastic Tampa Bay Weather. Lisa here, with another way to enjoy Tampa!
Ok everyone (I hope) has either been too, or heard about The Columbia Restaurant. Well they also have a Cafe located downtown by the Tampa History Center, and it's right on the water. Obviously
The Columbia Cafe
maintains the same atmosphere as their other restaurants, but you also get to sit outside and eat, all year round (one of the many reasons I moved here)!
As the temperatures are rising, the Columbia Cafe menu is changing and expanding. They have recently added a lovely list of new features to their already great list of items available. But have no fear, I will tell you about the new items now so you can agree with me when I say they sound AMAZING.
First is Coca de Langosta y Chorizo. This is a Catalonian flatbread brushed with Columbia's 1905 sauce, then topped with Spanish chorizo, diced vine ripe tomatoes, Maine lobster and Manchego Cheese. Baked until crisp, then drizzled with piquillo pepper alioli.
There is also the addition of Plantano Maduros; fried sweet plantains.
For dinner they have added Picadillo "Criollo" Cuba's most popular blue plate special. Finely ground beef braised with onions, peppers, raisins, olives and capers.
Also they have Chicken Salteado consisting of sauteed chicken, onion, green peppers, fresh garlic, mushrooms, diced potatoes and chorizo, splashed with hearty red wine. Served with yellow rice.
And lastly for dinner Mahi Mahi Key West. Which is Mahi Mahi marinated in citrus juices and grilled. Served with yellow rice, plantanos and mojo.
Of course for dessert they offer Gelato or fresh baked guava and cream cheese pastry.
The Columbia Cafe
is located at the Tampa Bay History Center, on the Riverwalk, next to the St. Pete Times Forum (where the Tampa Bay Lightning play), and within walking distance from some of the best downtown Hotels Tampa Bay has to offer (Tampa Marriott Waterside and the Embassy Suites), The Tampa Convention Center and The Florida Aquarium.
The Columbia is open from 11am-9pm and they feature live music Friday and Saturday nights. And they also have a full bar. They do have indoor or outdoor seating available!
What a great way to enjoy classic Tampa bay Dining, while enjoying a night out on the town!
That's all for now, and I don't know about you but I'm pretty hungry! Stay tuned Tampa, more Things To Do In Tampa Bay will be coming your way soon!