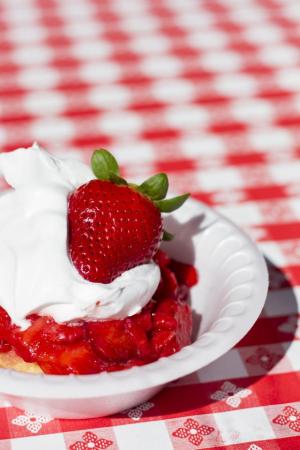 There are so many tasty treasures to discover at this year's Florida Strawberry Festival and lucky for you I have ingested all the calories for you by trying all the new foodie sensations, sweet strawberry-themed treats and unique foods available this year at the festival.
First up, let's start with the "main attraction", the world-famous Plant City Strawberry Shortcake.  There are plenty of places to load up on this delectable treat, but in my opinion the real deal is located inside the Parke Building from the lovely folks at St. Clement Catholic Church.  Not only are they the most adorable and friendly people (41st year at the festival) plan to be patient and wait because the line usually wraps all the way around the building (totally worth the wait).  The hardest decision you will have to make… biscuit or cake? Choose wisely my friend, both are delicious and then you are in charge from there to load all the toppings yourself and customize your Strawberry Shortcake just the way YOU like it (I prefer extra berries)!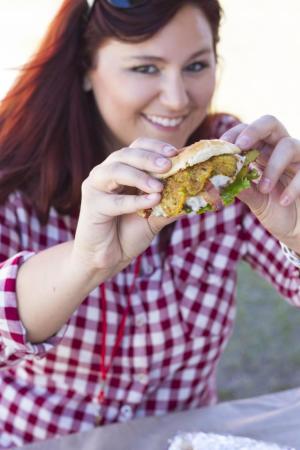 Remember our good friends Sheryl and Dennis Reas from Carousel foods? You know… the people who opened my eyes to the sweet and savory doughnut burger (seriously so delicious) and ramen noodle burger at the Florida State Fair a few weeks ago? Well, they surprised me again…. I really don't think you are ready for this. 
Let me break it down for you.  A burger, topped with melted cheese, crispy bacon, a fresh fried green tomato, fried pickles and whatever fixings fit your fancy!  I am telling you, I love a good fried green tomato and fried pickles are the tastiest little things I've ever had the pleasure of eating then they go and add a burger to it? Delicious… absolutely delicious y'all! You're welcome in advance.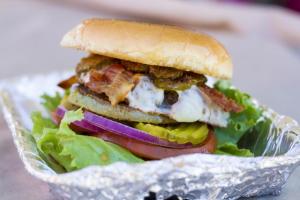 Of course we couldn't visit the Strawberry Festival and not visit our good friend Griff, king of the most unique ice cream creations!  He has created something just for the Strawberry Festival, the "Sticky Pig ice cream" and the "Sticky Pig on Wheels".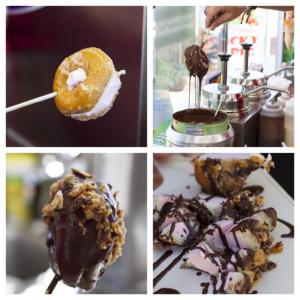 I went for the "Sticky Pig on Wheels" and I must say it was an impressive creation.  So what's on this wheel?  Your choice of strawberry, vanilla or chocolate ice cream sandwiched between a donut cut in half and then frozen, dipped in melted chocolate and topped with maple-candied bacon (or sprinkles if bacon isn't your thing).  Warning… it is magically delicious, but a little messy.  We cut ours in pieces so we could share!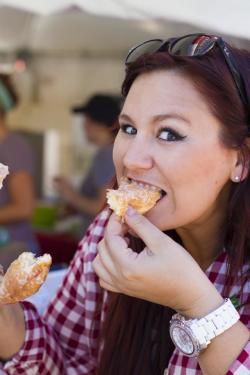 Now on to the Amish Donut... the most delectable treat of the day! I have to admit I was really kicking myself for not trying the Amish donut at the Florida State Fair this year, but lucky for me the Amish Baking Co. brought their team to the Strawberry Festival.  Nate is the owner and he works off his Grandma's secret recipe.  The donuts are made from scratch with a yeast sour dough bread (taste different and BETTER than a regular donut, sorry Dunkin).   Oh, is that not enough for you foodie fanatics? Well, for an extra treat, ask for the Strawberry Stuffed Donut.  This bad boy was made just for the Strawberry Festival and oozes with strawberries, glaze and real whipped cream between an Amish donut.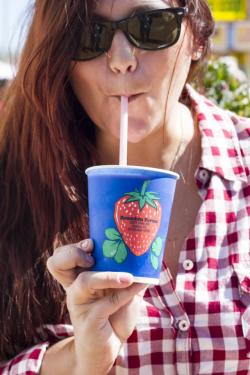 I've also heard a lot of chatter about the home-made strawberry shakes at the Strawberry Festival this year and I think we have found our favorite.  With choices between strawberry milkshakes, strawberry smoothies, strawberry tea, strawberry lemonade, etc… but the best strawberry shake is at the Brandon Farms stand and will run you $4.  The consistency is just thick enough to pick up with a spoon or sip through a straw.  They also have Strawberry Pizza that will satisfy foodies with a super, sweet tooth.  Strawberries top a cookie crust coated with cream cheese and a strawberry glaze used as the sauce.  A unique slice of pie will cost you $3.50.
Well, I hope you will get a chance to get out and try a few or all of my top foodie picks from the Florida Strawberry Festival.  Don't forget they also have ton of concerts and free entertainment.  The Strawberry Festival runs through Sunday, March 9th in Plant City, Florida.  
I think it is time to tap out from fried foods for a little while my foodie friends and Bayshore Boulevard is calling my name.  It is going to take me a few hundred miles to work this post off… yikes!