Hey artists of Tampa Bay, Alex here to tell you about some fun events taking place at USF throughout the end of March and the beginning of April.
March 27: Steinway Piano Series: Enrico Elisi (Italy)
Location: MUS 107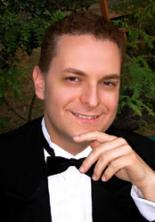 Date: March 27 at 4-5:30 pm
On Sunday, March 27 from 4-5:30 pm a piano series hosted by USF's School of Music will take place in Barness Recital Hall (MUS 107)
The series will feature works by:
Scarlatti, J. S. Bach, Mozart, Chopin, and Respighi and a true musician, Elisi is a master of elegance, refinement and fantasy.- La Nueva España
Ticket Prices:
$8 students/seniors, $12 adults (Advance Sales)
$10 students/seniors, $15 adults (Day of Performance)
You can purchase tickets
here
.
For additional event information, please visit:
http://music.arts.usf.edu
.  
March 28- April 1: Recurring Currents
Location: 102 Gallery (FAH 102)
Date:       Mar 28 - Mar 31 11am - 5pm
                Apr 1, 11am - 9pm (reception 7pm)
This gallery is organized by Chuck McGee and will present past influences on the USF Ceramics Program.
In this exhibition: Ryan Berg : Deon Blackwell : John Byrd : Trevor Dunn : Christine Colby : Cesar Cornejo : Sean Erwin : Barron Hall : David Kastner : Chuck McGee : LC McGee : Tom Judge : Ivan Reyes : McKenzie Smith : Jay Strommen : John Tilton, and others.
March 28-29: Temporary Moments into Two Degrees of Separation
Location: FAH Exterior by parking lot 3C
Date:       Mar 28 - 29 11am - 5pm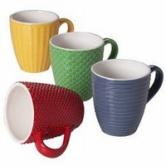 Apr 1, 11am - 9pm
Come on down to "The Tin Can" for a nice, fine, traditional, free cup of coffee, where function is our number one. Why with 1000 coffee cups to give away, you are sure to get one that suits you and your own unique personality. Set in an Air Stream Trailer "The Tin Can" will be brewing and serving hot coffee from your own local coffee shops for free.
It's all in an effort to give you a pleasurable caffeinated experience in an effort to conserve for the benefits of our society. So come get your comfort in a coffee cup any time you need a perk-me up, they'll be open all day. This Exhibition is by current USF MFA student Kale Roberts.
March 31- Visiting Artist Lecture: Ryan Berg
Location: FAH 290
Date:       March 31 at 8pm
A former USF assistant professor, Ryan Berg, is coming to speak at USF on March 31st at 8pm. Now, he is an artist currently based in Los Angeles. His work with collaborators in Glitter Chariot explores ideas of theatrical and cinematic melodrama through musical performance, video work, drawings and sculpture. With titles such as "All That Heaven Will Allow," "Ribbon of Darkness," and "Why Have You Left That One You Left For Me," Berg's solo work and Glitter Chariot give a nod to Douglas Sirk films and the songs of Lou Reed, Crystal Gayle, Elton John and other combinations that spark connections about the intricacies of relationships and the dramas within them.
April : ArtHouse
Location: FAH Building
Date:       April 1, 8pm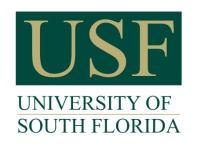 Now in its 13th year, ArtHouse provides an opportunity for the Tampa Bay community to visit the open studios and galleries of the region's premiere visual arts program. With hundreds of paintings, photographs, prints, sculptures, ceramic works, music, videos, performances, food and drink; the evening is electric with the energy and artwork created by over 400 amazingly talented students. Please join us for art, live music, and of course food and drink!
April 10- May 7: MFA Graduation Exhibition
Please join us when we reopen April 1st for the USF MFA Graduation Exhibition: Starting Fires.
This annual exhibition featuring Master's Final Project works by MFA Candidates in the USF School of Art and Art History provides an opportunity for graduate students to have their work viewed by the public, as well as University faculty and colleagues, in a professional environment. This year's class includes: Robb Fladry, Ryan Foster, Zak Hemsteger, Lin Li, Francis Marquez, Justin Martin, Bruce Monroe, Daniel Moore, Ellen Mueller, Chris Otten and Jordi Williams.
Concurrent with Starting Fires, the School of Art and Art History hosts ArtHouse, a favorite annual event where open studios, special installations and performances are presented by graduate and undergraduate students of the School, and complemented by music, food and beverages.
If you are not familiar with the layout of USF's Tampa Campus,
click here
, for a map.
Check back with us often to find out exciting Arts and Culture in Tampa Bay related Things To Do in Tampa Bay!