Hello Everyone, Alex here to let you know about a spooky film festival coming to Tampa this October.
 
On October 22, prepare to have your soiled pants scared right off when Creative Loafing Presents: Reel Terror 2011. A one-day film festival celebrating the local horror scene and the many brave souls who risk life and financial ruin in pursuit of their dreams, Reel Terror will include panel discussions with area filmmakers, celebrity appearances, screenings of scary movies shot all over the Bay area and the state, an audience-dictated awards ceremony and much more.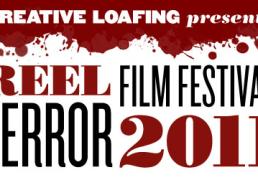 Whether you're a local film-nerd working on a low budget creep-a-thon or an experienced hack that's just completed their magnum opus, we want to hear from you. To enter, go to http://cltampa.com/reelterror and fill out the online entry form.

You will have the option of providing an online link to your film for us to review or sending us a DVD. (Note: We'll need a DVD either way if your film is selected for the festival.) We will then notify those selected for the festival by Sept. 30, 2011.

The rules for submissions to Reel Terror 2011 are as follows:
•  All entries must be received by Sept. 15, 2011
•  Entry fee is $35 for a short film (less than 30 minutes) and $50 for a feature (30-90 minutes long). Entry fee includes VIP tickets to the event regardless of if your film is chosen to compete
• Your film MUST have been shot in the state of Florida
• Your film MUST be solely your work and not contain any unlicensed, copyrighted or otherwise infringing material — that includes the music. 

If you have a passion for film and love to celebrate Halloween, this is a great film festival for you!! Don't forget the deadline to submit an entry is September 15, 2011.  Now go get started on creating your short or feature film!

Keep checking cltampa.com/movies or follow @cl_movies for updates and more info. 

Check back with us often for more updates on Tampa Bay Film!