Good morning Tampa Bay, Alex here to let you know about a film festival taking place this month!
Gasparilla International Film Festival is one of Florida's largest and fastest growing film festivals. This year's festival is taking place at various locations in downtown Tampa & South Tampa from March 29- April 1, 2012. GIFF is dedicated to expanding art opportunities in the Tampa Bay community through the medium and culture of independent film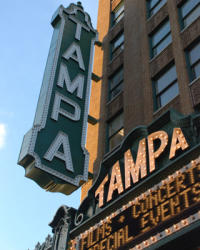 .
Opening Night
Thursday, March 29, 2012
Opening Night VIP Reception @ Tampa Theatre
  - 6 7:30p.m.
  - $55 (includes film screening, sampling from restaurants, beer/wine)
Opening Night Film @ Tampa Theatre
  - 7:30p.m. - 10pm (general admission doors open at 7:30 p.m.,    film starts at 8p.m.)
  - $12 (film only ticket)
Opening Night After Party
- 10.pm. - Close @ TBD
- Open to public / free
Purchase your tickets for the opening night today!
Check back often for Gasparilla International Film Festival event updates and for more Tampa Bay Film News!