Food truck lovers unite this weekend!
Witness Tampa break the Guinness World Record for the Largest Food Truck Rally, which Miami currently holds at 62 food trucks! Held at the Florida State Fairgrounds on Saturday, August 31, the free festival will have more than 100 food trucks from all over the U.S. Food trucks include Enjoi Sweets & Company, Thai One On, Sweet G BBQ, Off the Griddle, Inside Scoop, The Pastrami Project, LizzieCakes, Grumpy's Diner, Wrap-N-Roll, The Mediterranean Grill of The Palm Beaches, Snow Caps, Sarge's Smokehouse BBQ, Roaming Gourmand, Loafin' Around Cafe, Maggie On The Move and many more.
The Rally will start in the morning with a two-mile parade beginning at the ENCORE! Neighborhood in Downtown Tampa where Mayor Bob Buckhorn will kick it off by ringing the "official dinner bell." The festival starts at the Fairgrounds at 11 a.m. with music and of course, food! Feeding America will also be accepting non-perishable food donations until 8 p.m.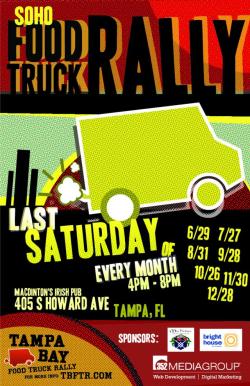 Another food truck rally going on this Saturday, July 27 is the SoHo Food Truck Rally brought to you by The Tampa Bay Food Truck Rally.  Trucks are rolling out in SoHo at MacDinton's Irish Pub (405 S. Howard Ave., Tampa) from 4 p.m. to 8 p.m. and will feature a great variety of trucks for foodies to enjoy!  Some trucks attending the SoHo food truck rally are: Dub and Jimbo's, Just Smokin BBQ, Lucia's Gelato, Nico's Arepas Grill, Rollin Zoinks and the Cheesery and introduces some new trucks to the SoHo Food Truck Rally crowd. Alaska Mike's Yukon Fry Bread, Lizzy Cakes, Pasta Bowl Food Truck, Pocket Rockets, and Thai One On will all be making their SoHo Food Truck Rally Debut.  This event is FREE!  The SoHo Food Truck Rally takes place every last Saturday of the month at MacDinton's.  We know some of you are sad that Dine Tampa Bay Restaurant Week is over, so join us at the SoHo Food Truck Rally to celebrate.  More information on the SoHo Food Truck Rally: http://www.tampabayfoodtruckrally.com/
Start your weekend off with Food Truck Madness today, August 30 at MOSI, featuring some of Tampa's biggest and best food trucks. Admission to Food Truck Madness is free and additional fees apply for Sea Monsters Revealed (last weekend of the exhibit!), Sky Trail attractions, IMAX movies and MOSI general exhibits.
Stay tuned on more ways to unlock Tampa Bay's tasty truck scene!