Tampa residents have long known about the great toffee produced by Toffee to Go, and now the rest of the world will kno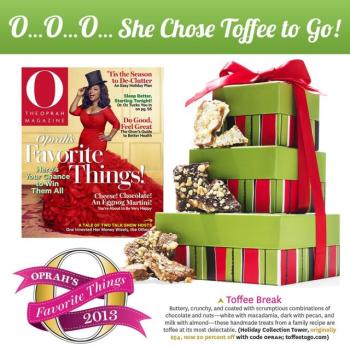 w about it too! A dream come true for the Tampa-based business, Toffee to Go has been named on Oprah Winfrey's 2013 list of her Favorite Things published in the December issue of O, The Oprah Magazine.
The company already started preparing for the "Oprah Effect" by hiring additional staff and upping the toffee production, which is already at nearly one-thousand pounds per day.
Toffee to Go makes its toffee with only the finest ingredients, no preservatives added and in small batches by hand – so it has the perfect crunch and taste!
Visit Tampa Bay is proud to congratulate Toffee to Go's owners, Lisa and Jim Schalk, on having the best toffee around!