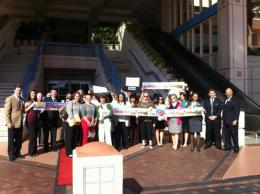 Tampa Welcomes IBEX here for a Site Visit!
 
Amy Trautman, our own National Sales Manager conducted a very successful site tour of our city with 2 of their company's key personnel. 
We are bidding on a three year contract for 2014, 2016 and 2018 with an estimated 18,000 room nights total.  The economic impact to Tampa is estimated to be $4,564,000 each year.  The two site participants were very impressed with our warm Tampa send off at the finale of their tour at the Tampa Convention.  

Their board plans on coming in February for their site tour.  We will keep you updated.