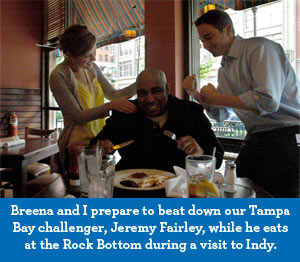 Okay, now for those of you who didn't know, a while back we were engaged (and I use that term loosely) in a blog contest with our friends up north at the Indianapolis Convention & Visitors Association.
The rules of the game were basically that for 30 days, we would see which staff of bloggers could create the most content over the span of 30 days. My counterpart in Indy, Jeff Robinson
wrote this post
at the start of the contest to sort of get things going as far as the smack talk goes, and boy I bet he is regretting that post right now!
It was built up as a blog battle for the ages, one of epic proportions, but in the end it was simply a beat down, massacre, butt whoopin, or whatever else we can think of to label it, it really wasn't close.
The whole thing reminded me of the Ricky Hatton vs Manny Pacqiauo fight a few months back where Pacman knocked Hatton down for the count with a left handed laser that left Hatton in a daze on the canvas. Yeah folks it was that bad indeed...
I won't give you the actual number that we beat them by, but lets just say we easily doubled their effort and it wasn't really even close. As a result, the Indy team has to purchase and wear t-shirts that say "I'd Rather Be in Tampa." This is in addition to the embarrassment of losing so badly to us.
In honor of our victory, and to help explain to them why they may have lost, I have compiled a top 5 list of reasons why we were victorious...
Top Five Reasons Tampa Whooped Indy
:
5.
Overconfidence
: Seeing as how the city of Indy has an undefeated NFL football team, I guess they figured that energy would translate over to their blog team...guess not.
4.
Bad Omens
: So the picture you saw above was taken at Rock Bottom Brewery. Seeing as how that is where the IACVB ended up in this contest (Rock Bottom), I don't think it was a good idea to kick things off there...lol
3. 
Bad Luck Maybe
: To quote the great Chad Ochocinco... CHILD PLEASE!!! Let's be real here guys, they never stood a chance... luck had nothing to do with it...
2. 
Weather
: Well it is mighty cold up there and I guess the frostbite got into their wrists and they simply were not physically able to type as fast and as often as we did. Gotta love the Florida Sunshine!
1.
Tampa Bay & Company Awesomeness
: Once we set our minds to it, victory was never in doubt for this Tampa Bay team of bloggers!
I was actually hoping to write this post with a picture of the Indy staff wearing those t-shirts, but as of me writing this post, my emails up there asking about the shirts have yet to be returned...hmmm I wonder why... lol!
Well folks, that's enough gloating for now! Stay tuned for more butt whooping updates on things to do in Tampa Bay!