Hey there volleyball fans, Josh Jones here to recap last weekend's "Tampa Twice" volleyball tournament. The tournament exceeded all expectations and proved plenty of excitement for all of those who attended.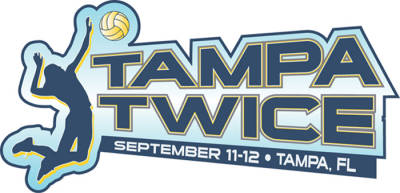 In the opening match, the #3 Washington Huskies took on the #9 Minnesota Golden Gophers. It was the first time Washington had faced a ranked opponent this season and the Golden Gophers gave the Huskies all they could handle. Washington stood up to the challenge though and swept Minnesota in three closely contested games with scores of 25-21, 25-19 and 25-23.
In the second match of the night, the previously ranked #4 Florida Gators faced off against the USF Bulls. In front of a crowd of 3,056 the Bulls lost the first set 25-13 but rallied in the second set to win 25-18. However, the Gators tough outside hitters proved to be too much for the Bulls in the third and fourth sets winning 25-23 and 25-10 respectively. The Gators handed the Bulls their first loss of the season winning the match 3-1.
The second night of exciting volleyball action started off with Washington taking on Florida for the right to be crowned champion of the "Tampa Twice" tournament. The first set remained even until Washington had back-to-back kills going up 8-6 and never let up the rest of the night.  In the end, the Huskies continued their winning streak as they shut out the Gators 3-0. #3 Washington is now sitting at a perfect 8-0 and Florida is now ranked #5 with a record of 6-1.
To conclude the "Tampa Twice" tournament, the host USF Bulls looked to rebound from their first loss of the season against #9 Minnesota. The Bulls faced a strong Golden Gopher team that put in a near flawless effort with only three attack errors in the match and a large advantage in blocks of 15-3. The Bulls did all they could to stay close with Minnesota but ended up falling 3-0. USF moves to 5-2 on the season while #9 Minnesota is now 7-2.
The "Tampa Twice" volleyball tournament provided to be a successful event for the city that will host the 2009 NCAA Division I Women's Volleyball Championship later this year on December 17 and 19 at the St. Pete Times Forum.
For more information on the 2009 NCAA Division I Women's Volleyball Championship
click here!
That's it for today, thanks for stopping by sports fans! Stay tuned for more Tampa Bay Sports information and amateur sports related things to do in Tampa Bay!
Josh Jones signing out!