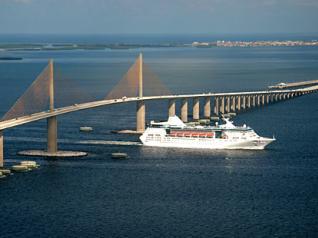 Hey everyone!  Travis here with some Tampa Tourism Trivia to see how much you know about the Tourism in Tampa Bay! 

The Cruise Industry plays an important role in the Hospitality and Tourism Industry in Tampa Bay!  Hundreds of thousands of cruise passengers come throughout Tampa Bay each year and eat in our restaurants, shop in our shops and stay in our hotels.  From Ybor City to the Westshore district, they experience the best of Tampa Bay. 

Well, today's question is:  In 2008, how many total cruise passengers came through Hillsborough County?

There were 632,000 in 2002; 821,000 in 2003; 780,000 in 2004; 812,000 in 2005; 913,000 in 2006; 735,000 in 2007...but how many in 2008? 

Check back tomorrow and we'll have the answer to today's trivia question! 

And don't forget, we will be posting this question on the Tampa Bay & Company Twitter page in just a few minutes (www.VisitTampaBay.com/twitter) and the first one to answer the question will receive a prize.  I believe today's prize is a Gameworks giftcard, so make sure you answer!