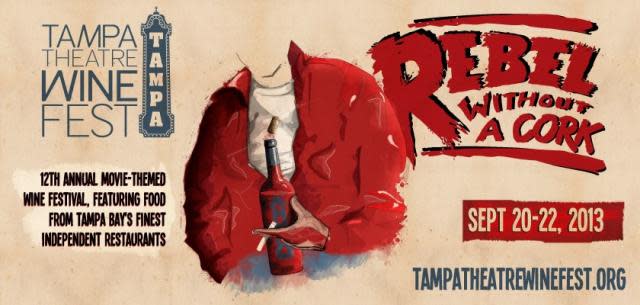 Tampa Theatre's much-anticipated Winefest, creatively titled Rebel without a Cork, is coming up this weekend with a wine pairing, festival, seminar and brunch. The fundraising event is so popular, the seminar is already sold out and the pairing only has a few spots left!
Friday night starts with the Wine Pairing from 7-10 p.m. and for the first time in Winefest history, dinner will be served on Tampa Theatre's historic stage. Guests will be treated to a delectable five-course meal by Mise en Place that is expertly paired with wines specific to each dish, provided by Augustan Wine Imports. The price is $195 per person, and is said to be unforgettable experience!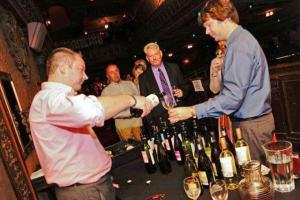 Experience the Theatre's majestic feel during Saturday's Wine Tasting from 8-10 p.m. featuring wines from Buried Cane Wines, Cadaretta Wines, Clayhouse Wines, Coopers Hawk Winery, Longboard Vineyards and Rutherford Wine Company. Local restaurants will also be providing scrumptious bites – Anise Global Gastrobar, AQUA Bar & Grille, Bavaro's Pizza Napoletana & Pastaria, Bern's Steak House, Catrina's Cocina Y Galeria, Donatello, Ella's Americana Folk Art Café, Sweet Tweets Cakery and Viktoria Richards Chocolates. Be brought back in time while enjoying wine and food to a Moorish backdrop while James Dean's 1955 drama Rebel Without A Cause plays on the big screen. The tasting ranges from $50-$100/person.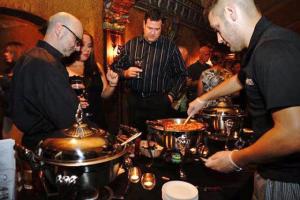 End the weekend right with a Wine Brunch on Sunday from 11:30 a.m.-1 p.m. with food provided by Catrina's Cocina Y Galeria, Café Hey, La Segunda Central Bakery, Mad Dogs & Englishmen, Michael's Grill, Pane Rustica and Victory Coffee. Wine-based cocktails will be also be served, provided by SideBern's.
Purchase tickets to the events online, but hurry, they are selling out fast!