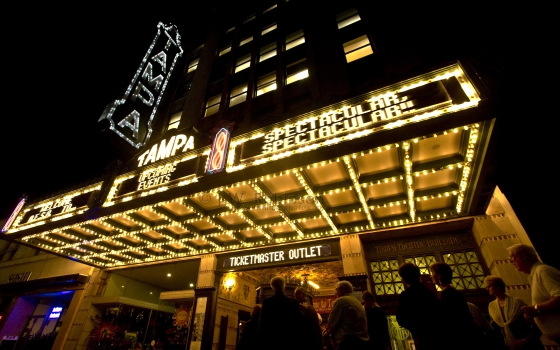 Hey everyone.  Travis back with more great things to do in Tampa Bay!  We are heading over to one of my favorite venues in the Tampa Bay area - the Tampa Theatre!
Here's the scoop - Tampa Theatre presents the 1925 silent horror classic The Phantom of the Opera starring Lon Chaney.  The film will be accompanied by Cliff Shaffer at the Mighty Wurltizer Theatre Organ.  Rosa Rio's niece Melissa Muys will perform Christine's arias live.  Tampa Theatre will project a restored 35mm print that is multi-tinted and includes the Technicolor "Bal Masqué" sequence. 
Tickets are $12 for adults and $10 for kids, seniors, military, and Tampa Theatre members.  Tampa Theatre, 711 Franklin Street, 813-274-8981, www.tampatheatre.org.  
In case you don't know anything about the movie, here you go - in The Phantom of the Opera, a mysterious phantom haunts the Opera of Paris. He threatens famous lyric singer, Carlotta, forcing her to give up her role to unknown Christine Daae. Eventually, Christine meets the masked phantom in the catacombs, where he resides. 
The iconic horror classic has inspired numerous remakes and rip-offs, and of course the blockbuster Andrew Lloyd Weber musical. The original 1925 film is listed by most historians as one of the 10 greatest films of all time and is on the Library of Congress National Film Registry. http://www.loc.gov/film/
The Phantom of the Opera is undeniably Chaney's most famous role. This film marked the actor's hard-earned entry into full-fledged superstardom. In portraying the maniacal Erik, the spectral figure who lurks within the catacombs of the Paris Opera House, Chaney demonstrated a physical and emotive talent few performers have ever approached.
Though his expressions are hidden, Chaney molds the Phantom into a complex bundle of contradictory, libidinal emotions that punches through the surface of cinematic stereotype and carried the art of screen acting to a new plateau, upon which the foundation for the American horror film would be laid.   During production, Chaney, "the man of a thousand faces," did all his own make-up work, which was considered shocking and grotesque by audiences when the film premiered.
And there's more, so if you want to read it, head over to www.tampatheatre.org.  And keep checking back here for more Tampa Bay area events, and other Tampa Bay Entertainment options.