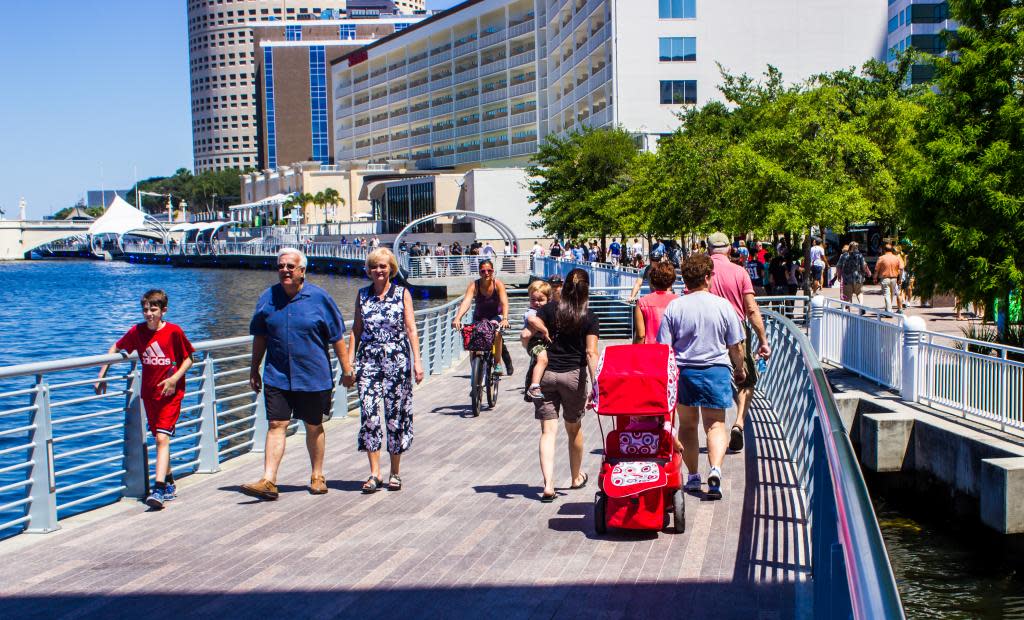 Larry Elliston and our friends at VISIT FLORIDA give downtown's Tampa Riverwalk the star treatment.
Have you spent time on the Riverwalk? What are you waiting for? Rent a bike from Coast Bike Share or bring your own, or pedal your way up the Hillsborough River on a Tampa Bay Water Bike. It's a great place for a morning jog, a post-lunch walk or a sunset stroll.
Take a break at the Sail Pavilion, where you can pump up your tires, have a quick snack or just watch the people go by.
The Riverwalk links many of downtown's most popular attractions with hotels, parks and awesome restaurants. Keep your eye open for The Plank, the Riverwalk's pop-up bar that appears whenever it feels like it.
The Riverwalk is zone for alcohol consumption, which means you can buy a special cup at one of the restaurants along the way and stroll with one of our great craft beers in your hand.
The Riverwalk is the focus of our newest yearly festival: River Fest at the end of in late April/early May. It's also a great place to catch the annual Tampa Bay Dragon Boat Races each spring and to spent intermission during a show at the Straz Center for the Performing Arts.