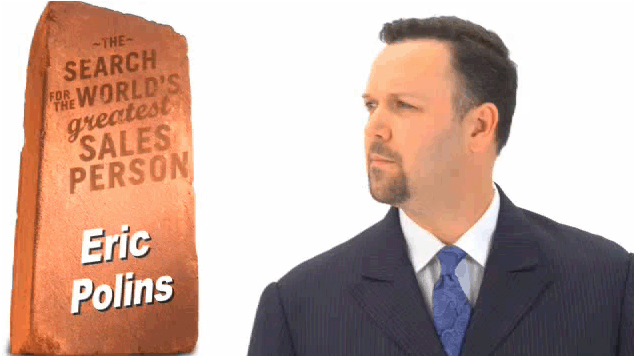 Hi guys.. this is Julian with an interesting story about one of our community members, Eric Polins, a true Tampa native! Times Business Columnist Robert Trigaux featured Tampa's Eric Polins who is about to stand on the edge of greatness:
He's six days away from competing in Cannes, France, for "World's Greatest Salesperson," having out pitched nearly 230 global competitors for a finalist shot at the title offered up by giant New York advertising icon
OgilvyOne Worldwide
. And to what does Polins owe his success thus far? Selling a lowly red brick. More on that in a moment.
Polins
, the 41-year-old co-founder and managing partner of Tampa marketing consultants
HCP Associates
, learned about the
"Search for the World's Greatest Salesperson"
contest, a YouTube video competition, while browsing Facebook. In addition to an all-expenses trip for three finalists to compete in Cannes at the world's biggest advertising convention, the winner gets a three-month fellowship with OgilvyOne "to rearticulate" sales lessons espoused by David Ogilvy. Ogilvy is considered the "father of advertising" and was a founder of the famous 20th century advertising firm Ogilvy & Mather. That has now become OgilvyOne, which says it is on a mission "to reinvigorate the noble art of salesmanship."
How do you sell a plain red brick in a two-minute YouTube video with greater passion and cleverness than 229 global competitors? Polins decided to sell the brick for its intangible asset: as a globally available and affordable good luck charm. In the video, he compares his red brick to, among other outdated good luck charms, a rabbit's foot ("too morbid"), a "knock on wood" gesture ("is anything made of wood any more?") and a four-leaf clover ("I live in the city," he says).
It's a smooth, tongue-in-cheek delivery by Polins, who also writes, produces and acts in films on the side (he sits on the board of the Gasparilla International Film Festival). The Penn State broadcast and journalism graduate says he left TV news because he was too nervous in front of a camera. Now he's used to it, as the YouTube brick pitch attests.
The competition is tough. The Canadian finalist pitches the brick in his video as not just a building block but "representing a dream" of great things. And the Japanese finalist reinvents the brick (with chrome handles) as a must-have purse that works better against muggers than Mace. If Polins wins in Cannes, he'll use his OgilvyOne fellowship to find ways to bridge the big ad gap between how basic and high-end goods are sold. And somewhere along the line, he'll probably add "World's Greatest Salesperson" to his resume.
This is it for now, but come back for more exciting stories from the Tampa Bay area, including news on the 2018 FIFA World Cup Bid ...!