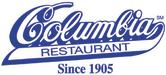 Hey Tampa Bay! Katy here with some exciting news about a few of our partners.

The James Beard Foundation named one of our Tampa chefs and a restaurateur as semifinalists for culinary awards. Chad Johnson of SideBern's was among 20 nominees in the Beard's Best Chef: South category.

Also, the foundation named Richard Gonzmart of the Columbia Restaurant chain as a semifinalist for Outstanding Restaurateur.

Congratulations to both partners on their nominations for these prestigious awards. The finalists will be announced on March 19, so stay tuned in for more Tampa Bay dining news and updates!