Hey everyone!  Jessica here with a quick Tampa tourism update...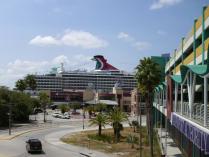 Tampa Port Authority is please to announce that Carnival Cruise Lines (CCL), which home ports two ships year round at the Port of Tampa, has named Tampa its "Embarkation Port of the Year"!!  The award was presented to the World Wide Shore Services, Carnival's service provider, during the CCL Port of the Year Party last week.
The award recognizes the ongoing attentiveness and top-notch customer service provided by the line's guest logistic shoreside personnel, as well as overall check in expereince of cruise customers sailing from this port.  Tampa's guest comment scores were the highest among 20 North American Carnival home ports.  With two Carnival ships,
Carnival Legend
and
Carnival Inspiration
, a total of 620,000 cruise guests embarked and disembarked on Carnival cruises via Tampa in 2009.  That's a lot of happy cruisers!!!
So, whether you're looking for a relaxing weekend getaway or an exciting family vacation, cruising from the Port of Tampa should be at the top of your list.  There are always special discount offers available and flexible dates for cruising...  and with a "Port of the Year" award, a Carnival Cruise from Tampa sounds like the way to go!  Congratulations to all individuals who made this recognition possible becuase of their outstanding customer service and dedication! 
Stay tuned for continued Tampa Florida news updates and more things to do in Tampa Bay! ~