It is me again, Linda Mummert reporting some exciting news for the Tampa Bay area. The
Tampa Museum of Art
is planned to open on February 6, 2010 in downtown
Tampa's Curtis Hixon Waterfront Park
. 
It was designed by San Francisco architect Stanley Saitowitz, the building will feature a shimmering pierced aluminum exterior, and state-of-the-art gallery spaces with innovative translucent ceilings and polished stone floors.  Five expansive interior galleries, one exterior sculpture gallery, an educational classroom equipped with the latest technology will offer visitors a wide variety of visual art experiences.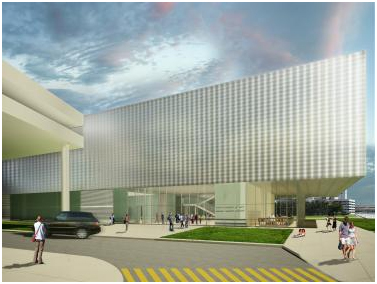 The museum will provide the Tampa Bay area with world-class traveling exhibitions, a growing collection of contemporary and classical art expanded educational programs and access to scenic outdoor events along Tampa's Riverwalk.  TMA will become a nationally recognized major arts destination and premier venue for residents and visitors.  The museum's interim facility is located at 2306 N. Howard Avenue in Tampa.
TMA recently announced they have selected Mise en Place of Tampa as the exclusive food and beverage café and catering services operator for its new facility. Ann Frechette will be the Catering Director for the Tampa Museum of Art.
The new Tampa Museum of Art will feature a café, Sono Café, which will be open seven days a week and will overlook the banks of the Hillsborough River and be accessible to all visitors through an admission free entrance.  The café will have a seating capacity of approximately 75, including waterfront tables and will offer menu items appropriate to visitors of all ages.  Sono Café' will embrace the "Slow Food Movement", which counters fast food, and fast life and invites guests to slow down and enjoy the dining experience with all the sensations that accompany the consumption of good food and quality ingredients in a comforting environment. 
The menu of Sono Café' is rooted in Italy – where the concept of "Slow Food" was founded in 1989 and will offer guests a range of choices from wine to dessert, and everything in between.  The new museum will offer exquisite spaces for weddings, corporate events, and Tampa Bay meetings. 
Rental spaces include lobby receptions for 300-400 people, seating dining for 200-250 people, exterior gallery receptions that can accommodate 125 people, and meeting rooms to accommodate small to medium gatherings with a maximum capacity of 120 people.  The meeting rooms will be equipped with state-of-the-art technology, including modern A/V equipment and internet access. 
As the exclusive catering operator, Mise en Place will provide all catering services for museum rentals and special events.  For further information, please contact the Ann Frechetta at 813-253-6473 or email
rentals@tampamuseum.org
.  The museum's switchboard can also be reached at 813-274-8130.  
Please take the time to visit TMA when it opens in February 2010 and have a relaxing meal!  Well, this is it for my exciting news.  Stay tuned for my next tidbit of Tampa Florida News.