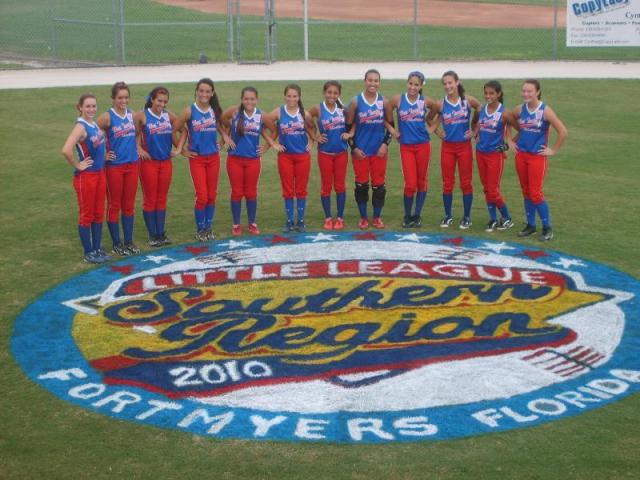 Hello Tampa Bay... Julian here with exciting news from Tampa's young athletes:
The Southeastern Regional Champions from West Tampa Little League leave to the World Series this Saturday in Kirkland, Washington. These athletes, who are representing the Southeast Region of the U.S., have risen from our very own hometown of Tampa! Our 14- year- old West Tampa Softball All-stars have played 15 consecutive games undefeated to earn this honor. 
Some of these girls began playing together when they were just 4 and 5 years old in the T-ball division on a team called the Lady Bugs. Almost a decade of training has passed since then as they realize their dream of competing in the World Series. 
These dedicated and tenacious girls will be representing Tampa in this internationally World class event televised by ESPN. Their arrival to this very competitive and prestigious event is an honor for the City of Tampa. These girls are a positive reflection on our city and are proud to showcase Tampa on an international platform. Tampa is proud of these girls' accomplishments and to have these great young athletes represent the city. 
West Tampa will be at their scheduled practices this week at West Tampa little League on Tuesday and Thursday from 11 a.m. -1 p.m. 
This Wednesday, at the Palma Ceia Beef 'O' Brady's on Mac Dill and Bayshore, there will be a send off rally to help celebrate the team's success. The girls hope to raise funds needed for their journey. The girls will be at Beef 'O' Brady's from 4:00 p.m. to 7:30 p.m. 
The team is still in need of $20,000 by week's end. The girls spent all weekend fundraising at local stores trying to reach their goal of $25,000. The community and corporations are asked to help these girls make it to the World Series. It will take the community to get the girls properly to Seattle.
Donations can be taken to the event on Wednesday or mailed to West Tampa Little League. P.O. Box 4226, Tampa FL 33677. Donations can also be taken to Suntrust Bank, account name: West Tampa Little League. Any questions please call Maggie Puentes at 813 352-3042.
So see what you can donate - every dollar counts! I'll be back soon with more news and updates around Tampa Bay area events!