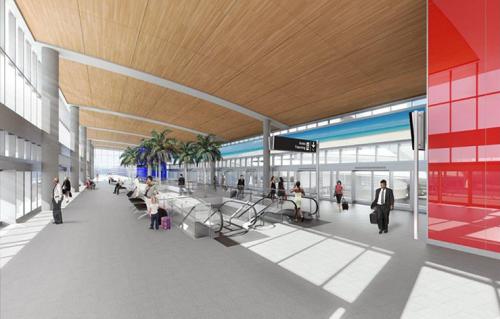 Tampa International Airport, Tampa Bay's gateway to the world, is a busy place these days.
Not only is the airport in the midst of a $1 billion renovation and expansion (that's its future people-mover station above), it's passenger traffic is also booming.
According to the Tampa Tribune, airport officials recently reported that traffic last fall (October through December) was 5.5 percent higher than the same time the year before.
International travelers -- coming in on Copa Airlines, British Airways, Edelweiss Air, and AirCanada -- grew more than 19 percent during that same period.
Along with its usual stable of airlines, TIA also added Alaska Air direct to Seattle last year. Those flights were running 93 percent full in the fall.
Frontier Airline is now flying between Tampa and Cleveland, Chicago and Washington, D.C.
Lufthansa starts direct flights to and from Frankfurt in September.