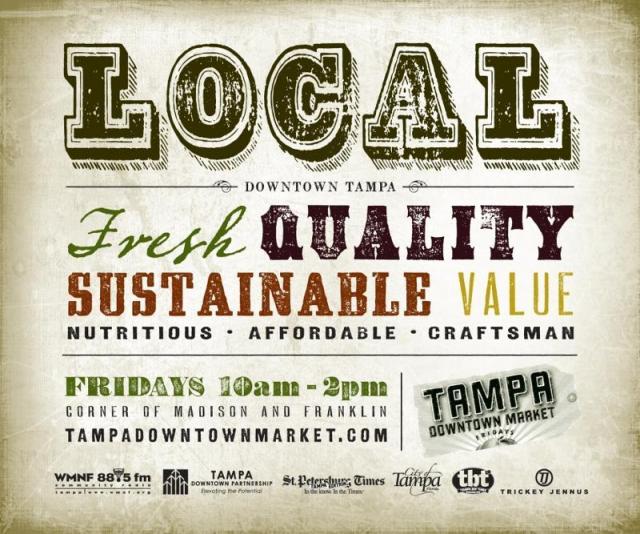 Hello guys... Julian here with great news from downtown Tampa: the
Tampa Downtown Market
will provide local residents and businesses of the community with the freshest, highest quality, most nutritious, and most reasonably priced food & gourmet products. You will see it on
Fridays, starting this week on Oct. 1 at Lykes Gaslight Square Park, 10am-2pm, October-May.
The Market is located on the 200 block of Madison St. and 400 & 500 block of Franklin St. bordered by Lykes Gaslight Square Park.
The
Tampa Downtown Market
offers a unique collection of vendors ranging from fresh produce to ready to eat products. Sprinkled in between are craft, plant and fresh baked products all waiting for you to enjoy! The mission of the Tampa Downtown Market is to serve as a community-gathering place where local farmers, producers, and artisans can offer fresh agricultural and related products to generate a sense of local pride and further the economic development of Downtown Tampa. The Tampa Downtown Market presents a unique collection of musicians and has something special happening each week. Whether it's a band performing or a special cooking demonstration, you are sure to discover something fun and different.
With a strong focus on sustainability, the Tampa Downtown Market intends to provide a vehicle to educate the community on the importance of good health as we create more business opportunities and residential benefits.
Environmental Areas of Action:
* We encourage the use of recycled materials at the market
* We encourage the use of already used public bags and re-usable totes
* We promote the use of alternative transportation to the market including: Trolley, Bus, Scooters, Bikes, Carpooling & Walking
* We promote buying local and eating greener by purchasing locally grown foods
* We provide waste boxes and liners to recycle papers & plastics
Here you go! This is great news for Downtown Tampa! And as usual, I'll be back with the freshest news and updates for Tampa Bay and Tampa Bay area events, so stay tuned!