Tampa Bay was notorious for its speakeasies during the Prohibition era of the 1920s, illegally selling and producing liquor's cheap alternative, moonshine, or if lucky, liquor that had been smuggled in. Because of Tampa's location,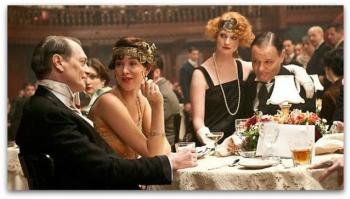 smugglers were easily able to bring in unlawful goods, such as liquor, from Cuba and the Bahamas.
Speakeasies earned their name from patrons speaking quietly about the bar or even speaking quietly while actually in the bar, to be sure not to attract attention from police.
Tampa Bay's speakeasy past is being brought back to life in season 4 of Boardwalk Empire, where Patricia Arquette plays a major recurring role as Sally Wheet, a Tampa speakeasy owner. The HBO Series is set in the Prohibition era in Atlantic City, N.J, and season 4 is currently in production for a debut later this year.
In mid-2010, Tampa Bay also returned to its speakeasy tradition, except with a modern-day twist, with the opening of Ciro's Speakeasy & Restaurant. Capturing the spirit of the Roaring Twenties from the handcrafted cocktails (minus the moonshine!) to the inconspicuous location of the bar, Ciro's requires guests to whisper a password through a slot in the door.