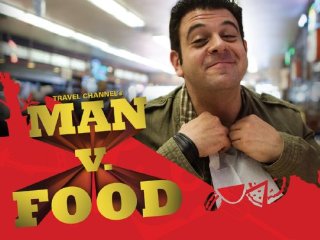 Good morning everyone, Alex here to tell you about a few of Tampa Bay's great restaurants featured on Man vs. Food Nation last night.
Back in February, Adam Richman- the host of the Travel Channel's Man vs. Food, and his crew visited a few of our favorite restaurants in Tampa Bay.
Richman visited Aguila Sandwich Shop in West Tampa, where he scarfed down their 12-inch Cuban sandwich, Rapscallions in Land O' Lakes, where he took on the Davy Jones Hot Wing Challenge, and  Skipper's Smokehouse in North Tampa, where he sampled the grouper reuben and gator ribs.
This episode appeared last night on the new, revamped season of Richman's show,
Man vs. Food Nation
.
Richman and his crew came all the way to Tampa to try some of the wonderful restaurants we have to offer. They must be good!
 So, check them out for yourself.
·        Aguila Sandwich Shop: 3200 W Hillsborough Ave., Tampa, 813-876-4022
·        Rapscallions: 4422 Land O Lakes Blvd., Land O Lakes, 813-235-6511,
rapscallions.net
·        Skipper's Smokehouse: 910 Skipper Rd., Tampa, 813-971-0666,
skipperssmokehouse.com
Look at episode highlights and behind-the-scenes photos, here on the Travel Channel's website, to find out more about the food these Tampa Bay Restaurants have to offer. You will also find some video footage on the beautiful Davis Islands.
Stay tuned in for more updates on Tampa Bay Dining.