Batten down the hatches! The invasion is coming!
The scurvy krewe of pirate captain Jose Gaspar rode into town Tuesday with guns blazing and cannons firing.
Bent on plunder, they hustled Mayor Bob Buckhorn from his office in City Hall and demanded he meet them in Lykes Gaslight Park.
They ordered the mayor to surrender the city. As every mayor has done before him, he stood firm.
A bunch of the smelly scallywags grabbed for the key, but the mayor kept them at bay.
"I waited 20 years to get this key! I'm not giving it up now!" said the mayor as he waved the giant key to the city in front of their swarthy faces.
Them's fightin' words! And brave talk, with the pirates' flag-bedecked ship, the Jose Gasparilla, anchored within sight of Bayshore Boulevard.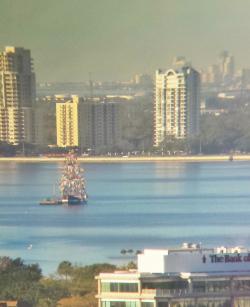 The pirates promised to return and take the city by force.
They'll make one more attempt -- this time to win the hearts of the citizens -- with this year's first-ever Gasparilla Pirate Fest, a feast of food, music and fun all for a good cause.
When that doesn't work (and let's be honest, the good people of Tampa Bay can't be swayed by pirates), they'll sail the Jose Gasparilla into downtown at 11 a.m. Saturday, continuing a century-old Tampa Bay tradition.
At 1 p.m., they'll lead a 5-mile-long parade down Bayshore Boulevard, kicking off two months of festivals, parades and parties collectively known as Gasparilla Season.
There's still time left to dress the part and sign on with Jose Gaspar's krewe -- before you're shanghai'd into it.
Anchors away, matey.