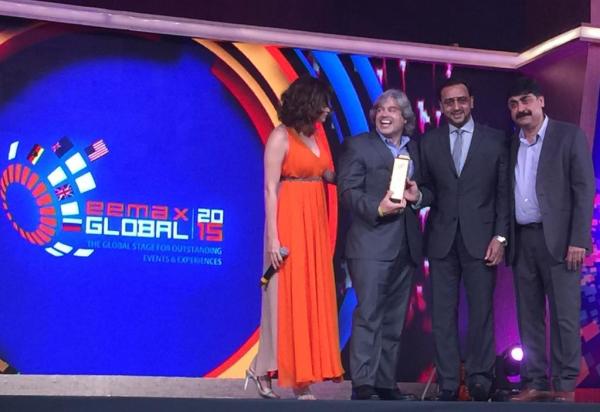 India's largest event planning organization honored Visit Tampa Bay this week for its success hosting the International Indian Film Academy awards program in 2014.
The EEMAX Global Conclave, organized by India's Event and Entertainment Management Association, invited Visit Tampa Bay president and CEO Santiago Corrada to Mumbai Sept. 19-20. He received the group's award on behalf of Visit Tampa Bay and helped educate Indian event planners on Visit Tampa Bay's approach to recruiting and staging large events like IIFA. The week-long festival in April, 2014, which drew 30,000 visitors to Tampa Bay and generated more than $26 million in local economic impact.
The success of IIFA was a factor in Time/Money.com's selection last month of Tampa Bay as the best big city to live in the Southeast.
"I was honored to be invited to participate in EEMAX Global and to accept the award on behalf of our hard-working team at Visit Tampa Bay," Corrada said after returning to Tampa Bay. "This community has shone time and again as a destination that can produce large, international events with efficiency and grace. It's something we do very well."
It was Corrada's third trip in two year to India on behalf of Tampa Bay's tourism industry.
The gathering included nearly a dozen Indian film stars – including some who won awards in Tampa Bay last year. In addition to receiving Visit Tampa Bay's award, Corrada also helped present other awards and joined a panel discussion to present Tampa Bay's approach to putting on large events.
"We talked about the process, and how we use events to market the destination," Corrada said. "Large-scale events like IIFA, large conventions or major sporting events are the perfect opportunities to introduce new people to this region we all treasure."
The year after IIFA, Tampa Bay hosted the NCAA Women's Final Four basketball tournament. It will host imperial sessions by the country's two Shriners organizations in 2016; the 2017 College Football National Championship; and is in the running for the SuperBowl in 2019 or 2020.