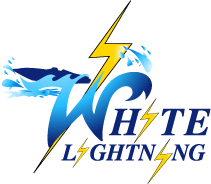 Happy Thursday everyone! Rachel Kardos here, reporting to you for the Partner Pulse. I am thrilled to announce a Florida resident special from our one and only White Lightning Jet Boat Tours. Now through April 30th, you can purchase an exclusive SPLASH PASS!! No, this doesn't mean you will get wet in the Bay (hopefully), it means that you are entitled to:

Unlimited White Lightning Jet Boat Rides
Unlimited Eco/Dolphin Tours
Unlimited Harbor and Sunset Cruises
AND
Unlimited Water Taxi Service throughout the downtown Tampa area

All for only $10 per month for your family (up to 3 family members or guests at a time)!

There are currently 17 shuttle drop off locations including the University of Tampa, Sheraton Riverwalk, Convention Center, St Pete Times Forum, etc.

Restaurants and clubs accessible by the shuttle include:
Malio's
Gallagher's Steakhouse
Rick's on the River
The Hut
Yacht Starship                                  
Splitsville
and MANY MORE!

What are you waiting for? Sign up today at www.whitelightningjetboats.com/florida.html

Have fun and Happy Travels!