Hello there football fans! Jerm here with an update on your
Tampa Bay Storm
and a cool Tampa Bay Sports pre-game event going on this Saturday!
If you didn't already know, our Tampa Bay Storm are kicking some serious tail this year! With a 10-4 record going into this weekends match with the Alabama Vipers, with an opportunity to go atop the American Conference South standings with a win!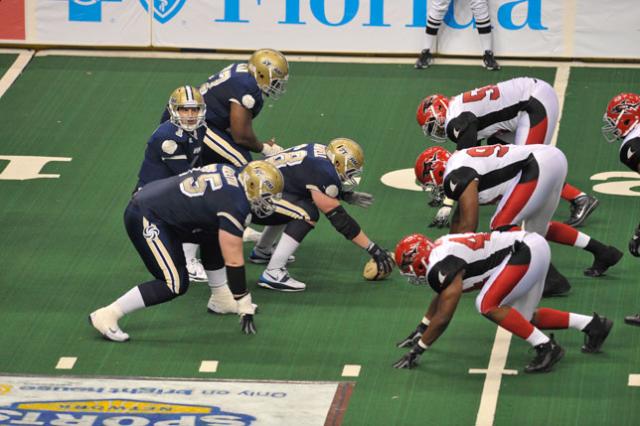 The last time the Storm faced the Vipers, it was a
hard fought 61-55 victory
last month on he Vipers home turf, so it should be another hard fought match-up!
I don't know about you guys but just the football aspect of it alone has me excited, and when you throw in some beer tasting, I know that has to get the rest of you up in arms as well! Yeah you heard it right folks, Beer Tasting at the St Pete Times Forum!
Your Tampa Bay Storm and 97X invite you to a special Miller Coors Beer Tasting on the West Plaza of the St. Pete Times Forum prior to the game on Saturday, July 24 from 5:30 – 7:30pm. Here are some quick details and what you can expect:
Sample craft and specialty beers from our friends at MillerCoors!
$15 gets you a general admission ticket to the game, plus admission to the 2-hour pregame beer tasting.
$25 gets you a lower level end-zone ticket to the game, plus admission to the 2-hour pregame beer tasting.
If you've already got a ticket to the game – don't miss out on the fun! Get your admission to the beer tasting for only $10!
To purchase your tickets, fill out at
http://www.tampabaystorm.com/beer-tasting/
! That's it for now folks, be be sure to check back in a little while as I will have more info on a Storm ticket giveaway going on tomorrow! Keep checking back for info on great Tampa Bay area events and things to do in Tampa Bay!