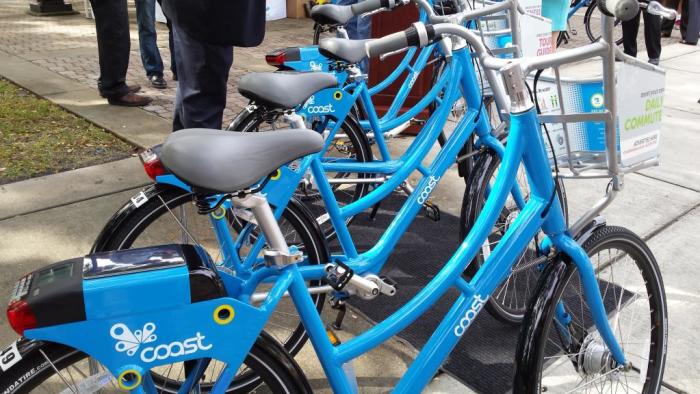 In its first 100 days, Tampa Bay's Coast Bike Share system has already racked up enough miles to nearly circle the globe.
The for-profit system's organizers say that as of March 16, Coast Bike Share had nearly 3,260 riders. Together, they pedaled almost 24,000 miles. The bulk of the riders – nearly 3,000 of them – are one-day riders who rent the bikes on the spot for quick trips of a couple miles. The rest are founding members or monthly subscribers.
Coast has 300 of its sturdy, sky-blue bicycles spread around downtown and nearby neighborhoods, including Ybor City, Tampa Heights and Davis Islands. The busiest bike locations are the Hyde Park neighborhood, downtown's Curtis Hixon Waterfront Park and Dick Greco Plaza near the Tampa Convention Center. The busiest day so far was Feb. 21 – the weekend of the Gasparilla Distance Classic and Lights on Tampa.
New hubs are on the way starting in April, said Coast spokesman Eric Trull.
Riders can rent the bikes by registering through the company's website or by downloading its smartphone app. Supply a credit card number and the system gives back a PIN that opens a bike.
Since Coast Bike Share started operating in December, riders have saved nearly $13,800 in driving costs and burned more than 950,000 calories – equal to more than 1,600 Cuban sandwiches.
Tampa Bay continues to expand its bike-friendly urban environment. The city recently finished a separate bike lane on Platt Street running between Hyde Park and downtown. The last major leg of the Tampa Riverwalk will open this weekend, creating nearly 2 miles of unbroken biking, walking and running along the city's sparkling waterfront.