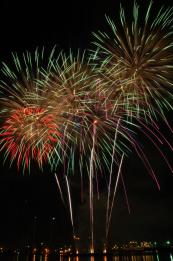 Hi Tampa Bay! Erica here to see where you are celebrating the Fourth of July. Summer has just officially begun, so you know what that means--fireworks, food, family and friends! If you haven't decided where you'll be celebrating this Independence Day, Tampa is offering some fun firework-y festivities:
The Great American Holiday 11th Annual 4th OF JULY at Channelside Bay Plaza: This FREE event is a Tampa tradition! Watch spectacular views of fireworks as they glisten on the ocean water at Channelside, while enjoying live music, entertainment, dining, and nightlife. The extravaganza starts at 1 p.m., and the fireworks will be taking off at 7 p.m.
Busch Gardens' Summer Nights: Just like its roller coasters, Busch Gardens is turning its park upside down this summer. Its Summer Nights gives visitors the opportunity to experience after-park hours, live entertainment, high-energy DJs and the adrenaline rush of riding world-class coasters in the dark. On July 2, 3 & 4, the park will have an extended fireworks finale to celebrate the holiday.
The Florida Aquarium's 4th of July Celebration: After 5 p.m. and for only $15, the aquarium is popping off the holiday with fireworks, family-friendly entertainment, all-American themed dinner options and patriotic souvenirs for the kids.
Tampa's Lowry Park Zoo's Red White and Zoo: In honor of Independence Day, members of the military and up to three direct dependents are invited to visit the Zoo for free on July 1-7.  Free admission applies to active duty military, reservists or members of the Guard with a valid military I.D. and up to three direct dependents.
For more information on thinngs to do in Tampa Bay, check out http://www.visittampabay.com/.
That's it for now! Check back with us for more exciting Tampa updates.