I am sure by now all you Tampa Bay Rays baseball fans have gotten your tickets, and if you haven't, then hurry up and reserve your seat at your favorite local watering hole as I hear the game tonight is sold out! 
It's always good for the fans whenever the Yankees come to town, but its a bit different now as they are coming to town to face the reigning
2008 AL Champion Tampa Bay Rays
!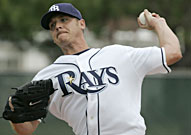 Tropicana Field will for sure be rocking to a sold out crowd as the Rays take on the Yanks for the first time this season, and of course you know, Jerm will indeed be on the scene for the festivities. Scott Kazmir is to step on the mound tomorrow for the Rays and Chien-Ming Wang for the Yanks. 
Prior to the start of Monday's game, the Rays will raise the 2008 American League Championship and AL East Championship banners, to commemorate the success of last season. As always I will be doing live Twitter updates and taking pictures at the game, so it should be a great Tampa Bay event for all.
Be sure to tune and support the Rays, and as always, stay tuned for more things to do in Tampa Bay!