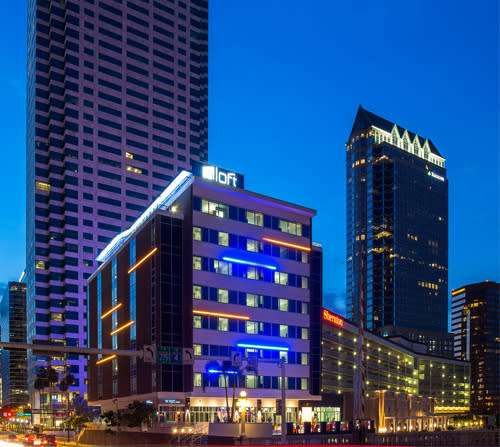 The number of people employed by Hillsborough County's hotel industry grew by more than 6 percent in 2013-14, outpacing every major destination in Florida and all but one nationally, according to new industry figures.
The report by Headlight Data looked at salaried hotel workers in the 50 largest counties in the U.S. The data were drawn from the federal Bureau of Labor Statistics, according to Headlight Data.
Hillsborough County placed No. 2 nationally with a hotel job-growth rate of 6.12 percent. The only county with a faster rate of hotel job growth was Davidson County (Nashville), Tenn.
Hillsborough County had 6,170 salaried employees working directly for hotels in 2014 compared to 5,813 the previous year, according to Headlight Data.
Nashville is one of the 10 destinations nationally that Hillsborough County competes directly with for both leisure and convention business. Many of those other destinations were also on the Headlight Data ranking, albeit below Hillsborough County.
"These numbers show the direct impact tourism has on Tampa Bay's economy," said Santiago Corrada, president and CEO for Visit Tampa Bay, Hillsborough County's destination management organization. "Each of these new jobs ripples outward, creating more jobs far beyond the hotel industry. Many of these new hospitality workers will have the chance to move up in the industry, building their careers and their community as they go."
Visit Tampa Bay's most recent estimate is that tourism supports more than 78,000 jobs in Hillsborough County and contributes more than $3 billion to the local economy.
Hillsborough County's hotel industry expanded in 2014, adding three new hotels – the Epicurean in Hyde Park, the Aloft Tampa (above) and Le Méridien Tampa, both downtown. All three hotels have about 130 rooms each. Le Méridien restored the abandoned 1905 federal courthouse at Florida Avenue and Zack Street, a project that has won accolades from Conde Nast Travel. The Aloft restored an empty former bank building at Kennedy Boulevard and Ashley Drive. The property overlooks the Kennedy Boulevard Plaza segment of the Tampa Riverwalk.
Local hotel jobs will continue to grow in the coming years as new hotels open in Ybor City, downtown and the West Shore Business District.
The job growth represents more than simply more hotels, however, Corrada said.
"These numbers reflect the growing popularity of Tampa Bay as a travel destination," Corrada said. "As demand for hotel rooms has risen, our hotels have added more staff to accommodate those new visitors. That makes the visitor experience even better – and creates those happy memories that bring visitors back to Tampa Bay."