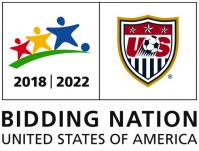 Hey guys, Jerm here with an update on the USA's FIFA World Cup Bid! The heat is on for the bid to host the FIFA World Cup in 2018 or 2022, and Tampa Bay has made a move.
Of 18 potential host cities throughout the United States who are vying for signatures for the World Cup petition, Tampa Bay has moved to No. 6 with 24,431 votes. But more help is needed!
There are still plenty of ways to cast your vote for Tampa Bay, and a goal of 50,000 votes is still set:
Go to www.GoUSABid.com/Tampa and sign the online petition to support the bid,
Go back and enter your other e-mails, then
Text TampaBay to 22442 to cast your vote in support of our bid.
Repeat this step as many times as you'd like...standard data and messaging rates may apply (but go crazy if you have an unlimited text plan).
Then we need your help in spreading the news about the petition to friends, family, colleagues, coworkers, employees, soccer fans and others. Let everyone in Tampa Bay, and beyond, know about the petition and how important it is to our area.
Stay tuned in for more World Cup United States related news from your Tampa Bay team!