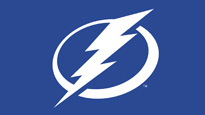 Hello there folks! Jerm here with an important update for you tonight for and a chance to win tickets to tonight's
Tampa Bay Lightning
vs Washington Capitals game at the
St Pete Times Forum
!
Tonight will be the the fifth of six games between these Southeast Division rivals --The Caps won the first two games, while our Lightning stormed back and took the last two victories, which should make for a
hotly contested evening of hockey
in the bay area tonight! 
Just because we are indeed so awesome, we are giving you a chance to win 4 tickets to tonight's game! Now here are the rules, so that you can be entered in to win!
All you have to do is just answer the trivia questions in this blog post on
Twitter
or on
Facebook
to have a chance to win. Answers placed in the comments section of this blog
will not count
.
Unfortunately, once again we only have one set of tickets to giveaway today so we will combine the entries from Facebook and Twitter and pull the winner that way.
Once you do that you will be entered in to win, as we will randomly draw one name total, and that person will have 4 tickets to this awesome event! Here goes:
Going into tonight's game vs the Caps, how many power-play goals have the Lightning scored?
True or False: The Capitals have lost 20 of 33 games since starting the season 14-4-1?
Name this Tampa Bay Lightning player with seven goals in his last seven games?
Okay guys here ya go! I'll be announcing the winners today around 4pm. Lastly the seats are in the lower arena area, so you will have a great view! That's all for now folks, and happy trivia!