Hello everyone! Jerm here with an update for you on what's going on with our
Tampa Bay Lightning
these days at the
Tampa Bay Times Forum
!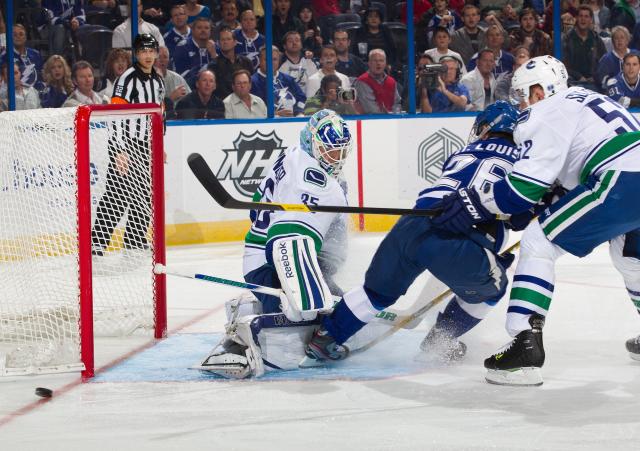 I was at the game last night to watch the guys play the Vancouver Canucks, one of the top ranked teams in the NHL, and boy was it game!
We fell behind a few times last night, but the guys came through late in the 3rd period with a Ryan Malone goal to force overtime at 4-4 and eventually a shoot-out, only for the Bolts to go down in the shoot-out. As a fan sitting in the stadium, I was extremely proud of the effort the guys showed to come back like that and fight to the end!
Check here
for a full re-cap of the game, but the fan support was great and I'll press you to find a more rocking atmosphere than a Lightning home game, with over 17,000 screaming fans, myself being one of them! Vinny and Stamkos were both on the score-sheet last night along with goals from Steven Downie and the aforementioned Ryan Malone. For Stamkos, that was his league leading
Don't worry though fan.s as you'll have another chance to cheer the Bolts on to victory this week as they take on the Carolina Hurricanes this Thursday night at 7:30 p.m. You'll also have the opportunity to watch the Bolts at home five more times this season as they take on the Penguins, Bruins, Blue Jackets, and Capitals this January! If you haven't already done so,
be sure to get tickets
as I am sure the atmosphere in downtown Tampa and the Forum will be ones you won't want to miss!
So be sure to check back often as we'll be giving you more Lightning updates throughout the season and stay tuned in for more Tampa Bay Sports updates!