Oh boy folks! Our
Tampa Bay Lightning
made it very interesting last night with a very hard fought 4-2 win over the visiting Pittsburgh Penguins in Game 6 of the Stanley Cup Finals!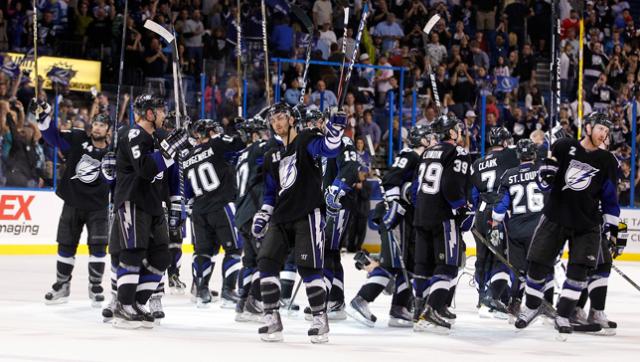 I was on hand along with a full house of Lightning faithful to cheer on the Bolts as they tied the series up at 3-3, and now are heading back to Pittsburgh for a decisive Game 7!
Full Game Re-Cap
I don't claim to be much of an expert on hockey, but I know grit and hustle when I see it, and last night the guys made us all proud with an effort that people around here will be talking about for a while to come!
Goals from T. Purcell (16:36 - 1st) , S. Bergenheim (05:44 - 2nd) , S. Downie (04:55 - 3rd) , R. Malone (09:34 - 3rd) sealed the victory for the Bolts as they look ahead to the next and final game this Wednesday. Even though we can't physically go out and support the Bolts at the Forum, I fully expect all of you to
head out to your local watering holes for watch parties
and showing support for the home town team!
Here is a quick list of some of the official Tampa Bay Lightning watch party locations:
Now of course there are
plenty of locations for you all around the bay area to watch the game
, so be sure to get out and show that support for the Bolts so we can have another round of home games once they finish the job in Pittsburgh!
That's all for now folks, but be sure to stay tuned in for more updates on Lightning Hockey and Tampa Bay Sports related things to do!